Steps for Presenters to Join WebEx Meeting without an account
On the right hand side of the screen, you will see an area to login. Type your name (e.g., John D.) and your email address and press "Join."

For first time users, in order to participate in a WebEx session, participants need to install a WebEx extension. The WebEx extension can be installed any time before the meeting starts. Once they download it for a specific browser, it will not need to be downloaded again for future sessions as long as they are using the same computer and browser.
If you are prompted, install the Chrome extension by clicking "Add WebEx to Chrome", then "Add extension".
| | |
| --- | --- |
| Mac | PC |
| | |
A window will open showing the installer application.  Double-click on "Install Cisco WebEx Add-On".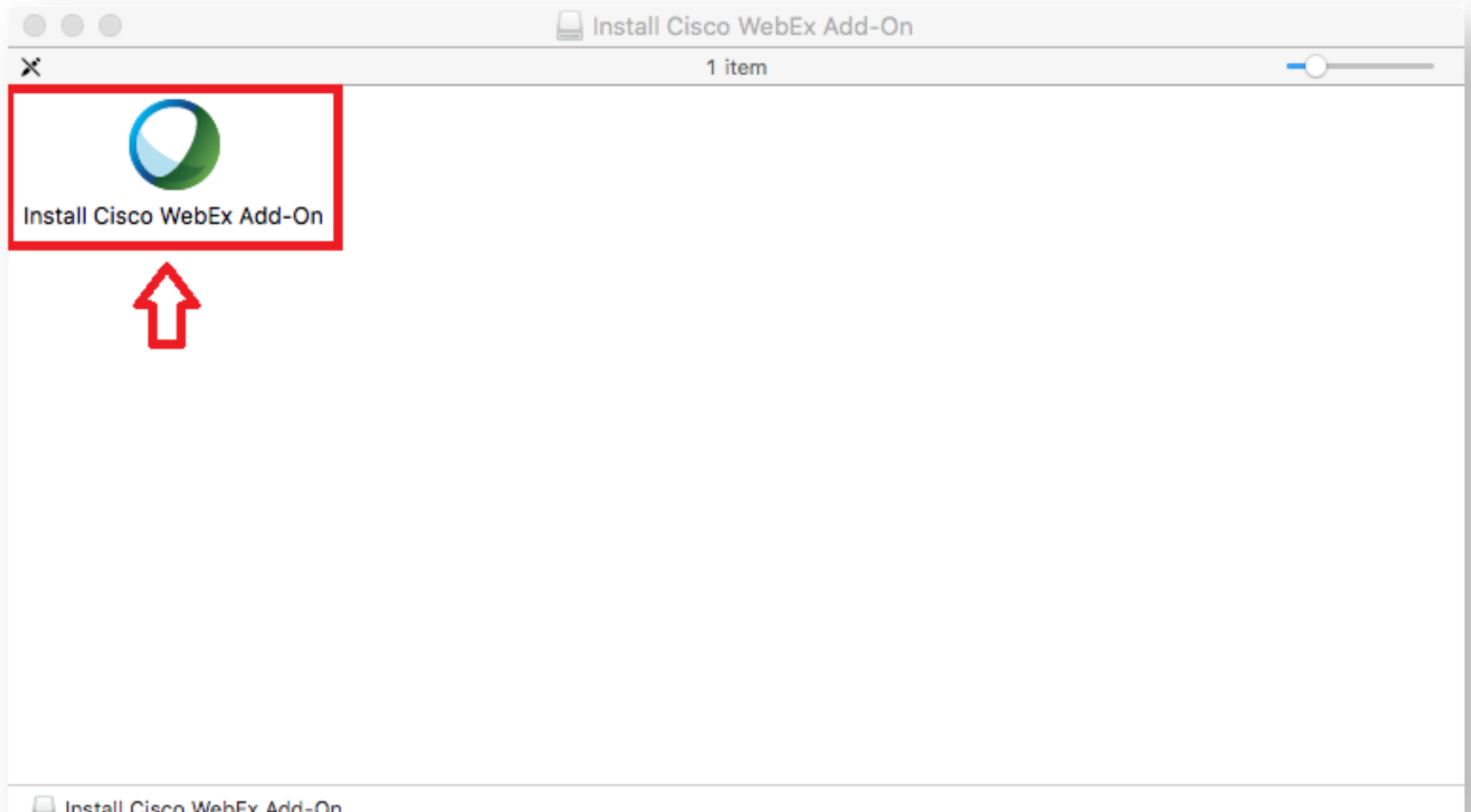 If presented with a security window, choose "Open".
The installer application will ask if you want to install the application.  Choose "Install".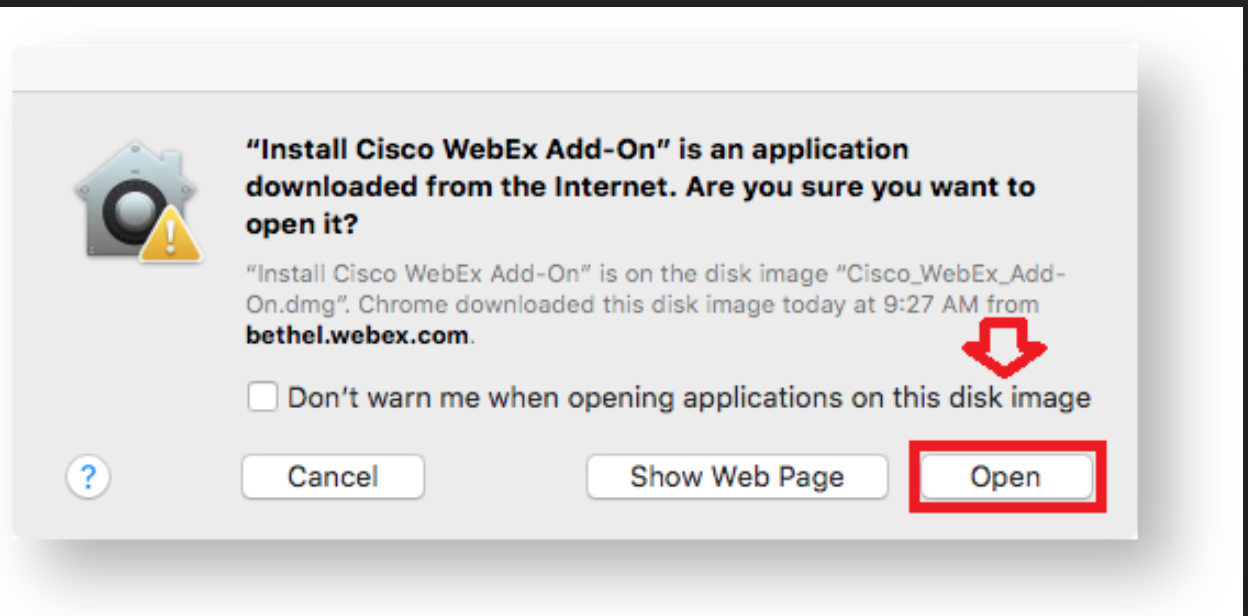 When installation is complete, your meeting should now launch and allow the presenter to join the meeting.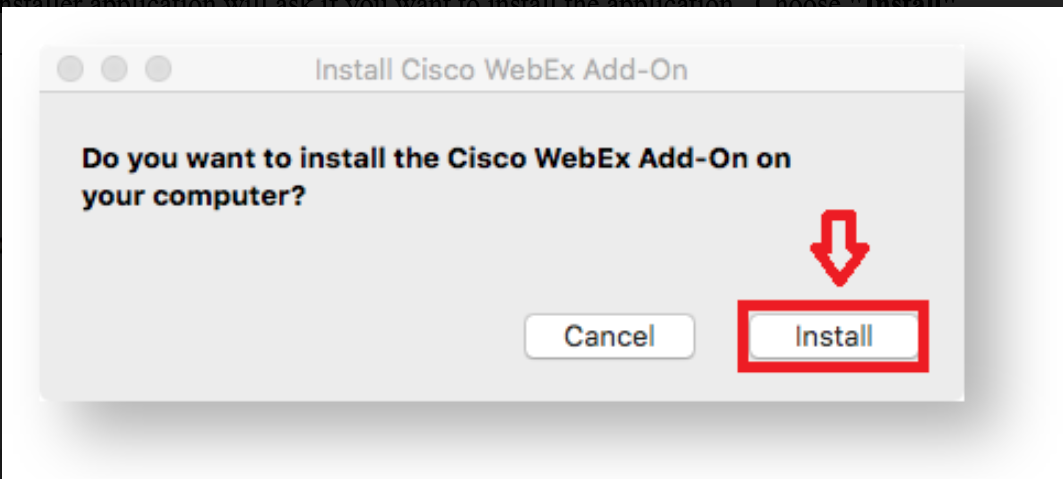 Establish an audio and video connection to the meeting. There are three audio connection options.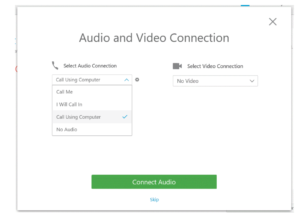 Sharing Files from computer:
Opening the file from the top ribbon will allow presenters to share presentation files with the audience

Menu

Mute/Unmute:

 Select to mute or unmute the microphone.

Start/Stop Video:

 Select to start or stop sharing video.

Share Content:

 Select to share the screen, applications, files or whiteboard.

Recorder:

 Select to start or stop recording the meeting.

Participants:

 Select to view a list of attendees.

Chat:

 Select to open the Chat tool.

More Options:

 Select to access more options including Notes, Polling, and Lock Meeting.

Leave or End Meeting:

 Select to leave or end the meeting.
Tips to Share Content in Cisco Webex Meetings 
You can share your entire screen with others, or choose which files and applications you want to share so you can keep everything else private.

Share your screen
When you share your screen, everyone sees what you can see on your screen. If you have a Word document or a PowerPoint slide, or even a website or chat window open, they'll see it. Select Share and Screen.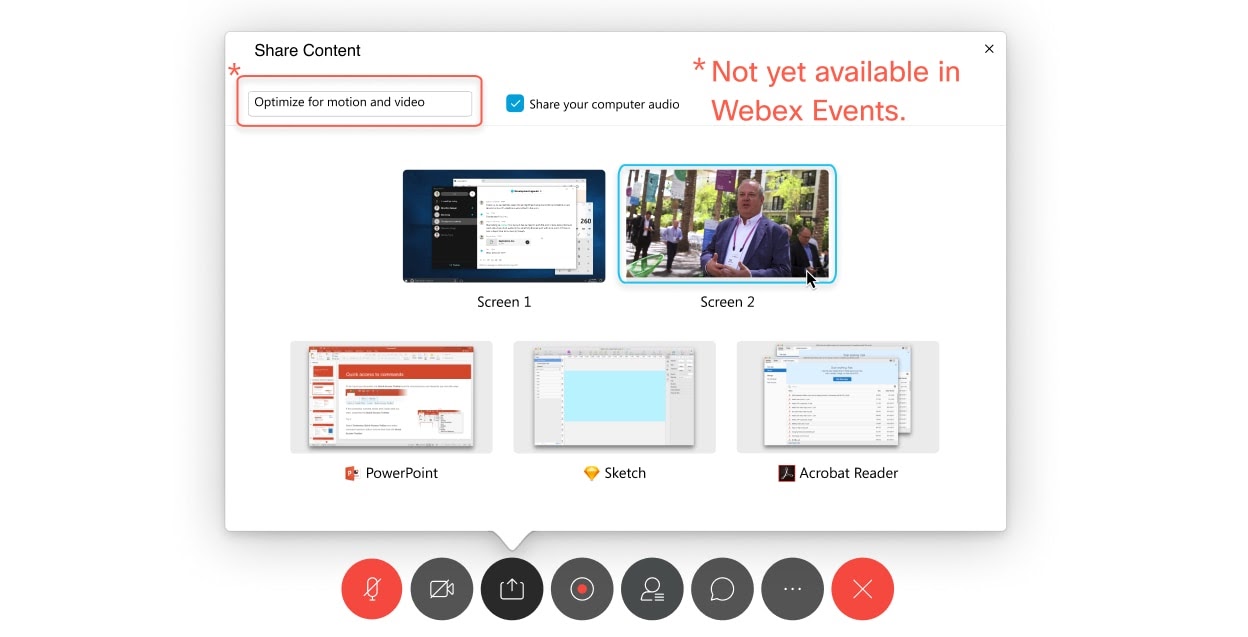 Share only a specific application
When you share a specific application, others can't see anything other than the shared application. For example, if you have your browser and PowerPoint open and you choose to share PowerPoint, they can't see the browser tabs you have open. But if you have several PowerPoint presentations open, you can switch between them and they'll still be shared. You can also edit slides as you share them.
To share an application that is open, select Share and select the application from the list of open applications. To share an application that is not open, select Share and Other Applications, then click next to the application you want to share.

Sharing Video with your presenters: Sharing video is slightly different from sharing any other type of content. That's why Webex Meetings has a sharing mode that's optimized for video. Go to Share , select Optimize for motion and video from the drop-down menu, and then choose the content you want to share.


Promoting WebEx Meeting Participants to Presenters
Meeting moderators can promote a Participant to Presenter status so that they can present materials during a WebEx meeting.
Select the 

Participants

 button from the meeting controls at the bottom of the screen to display the Participants Panel.

Right-click on a participant

 from the Participants Panel.
Choose 

Change Role To > Presenter

 if someone needs to share content.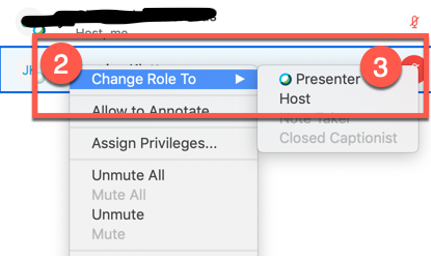 Note: The Meeting Host can regain Presenter status by right clicking on their name and then choosing Change Role To > Presenter.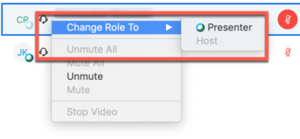 Viewing Attendance
To view attendance while in the meeting:
Select the 

Participants

button.